Powering Human Translations
Quality translations made by professional translators. Team work automated in the cloud.
Why Lingfy
High-quality translation solutions
Our intuitive translation platform allows companies of any size to order cost-efficient translations from professional translators.
Languages
ENGLISH (USA & UK)
PORTUGUESE (BRAZIL, PT & AFRICA)
ITALIAN
SPANISH (SPAIN & LATAM)
FRENCH (FRANCE & AFRICA)
GERMAN
Do you have projects in other languages? Please contact us.
Tailor-made solutions.
Professional translation services at your fingertips according to your language needs and project type.
Human Translation
We only hire qualified native professionals who ensure high quality translations.
Marketing communications, newsletters, etc.
Neural MT
Artificial Intelligence method, with results superior to common machine translation.
Internal communications, training materials, etc.
Proofreading
We carefully check the text for errors and ensure perfect wording.
Websites, product descriptions, contracts, etc.
Collaboration
All translators can work simultaneously in the CAT editor without disrupting anyone else's progress. Translation assets are continuously updated. Project managers can comment on segments and translators can clarify any doubts.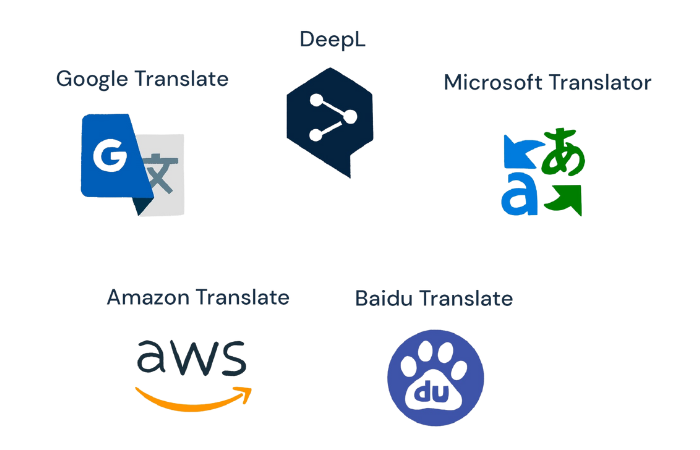 Machine translation
Our CAT tool offers several cutting-edge MT neural engines from different providers. PMs can choose the best services according to language pair and subject area. The MT output appears as a suggestion or automatically fills in all segments for post-editing.
Translation memories & Glossaries
Translation memories increase productivity and consistency by retaining and reusing previously translated segments. Translation memories and glossaries are easily managed and shared among different projects, so your terminology is always up-to-date.
Ready to translate?
Order online and get an instant quote.
Friction-free ordering
Two easy ways to order translations, depending on the size and scope of your project.
Order online
Quick self-service ordering via our simple online order form.
Available on-demand, 24/7
Track your order status
Translation starts immediately
Custom services
Flexible, efficient, and economical solution according to your needs.
Tailored workflows
Volume discounts
Complementary services
How do you ensure quality?

Our focus is on client satisfaction. We hire native speaking individuals with a passion for their language and a desire to show other people their mastery of it. They all must pass extensive testing and screening before becoming a member of Lingfy. Throughout every assignment, we oversee the translator's work to maintain the highest level of quality. After a project finishes, the client can review the translator's performance. Lingfy promises to resolve any concerns appointed by the client.
Can you put together a team to suit my needs?

Absolutely. Let us know what kind of translation projects you have in hands and the languages you want to translate into. We'll take care of the rest. We pick the most motivated professionals, manage the translation process, perform linguistic verification and quality control. Is getting high-quality translations into multiple languages a problem? Not anymore.
How many languages do you offer?

Our list stands at 13 languages currently. Please contact us if your desired language is not listed.
Who are the translators on your team?

Lingfy hires native speakers hailing from a variety of countries and languages. Each one must pass our tests and screening to qualify as a professional translator on our team. We track their progress from the start and throughout their work to ensure the desired results for each assignment completion. The clients can also rate and deliver feedback at the conclusion of each project. This helps us maintain high quality output and hire only the most motivated, hardworking individuals.
Is proofreading necessary?

Definitely. Proofreading is highly suggested for large volumes of translated work and content produced by multiple translators. The text is proofread by another professional translator that works independent from the original project, bringing a fresh pair of eyes to catch any potential errors. You can view our Pricing page for the current Proofreading rates.
How long will it take to complete my project?

We understand how important your time is. That's why our professionals can process:

Translation: at least 200 words per hour and more than 2,000 words per day.
MTPE: ate least 500 words per hour and more than 5,000 words per day.
Proofreading: at least 1,000 words per hour and more 8,000 words per day.

If your project requires more than that, contact us to dedicate additional team members to your work
How do you guarantee satisfaction?

At Lingfy, we take pride recognizing that our customers choose us time and again for our high-quality translation services and speedy delivery. We highly value our clients' feedback and encourage them to give the translator they worked with a rating based on their performance and overall experience. This helps us support reliable, hardworking translators and provide the best service to our clientele. Do not hesitate to contact us about any issues that you encounter during an assignment. We will do everything within our means to ensure customer satisfaction.
Is confidentiality guaranteed?

Our team of translators all sign a Non-Disclosure Agreement before they start work with Lingfy. Your work and confidentiality is important to all of us, and will always remain that way.